Dr. Stephen Krant Wins Best Cosmetic Surgeon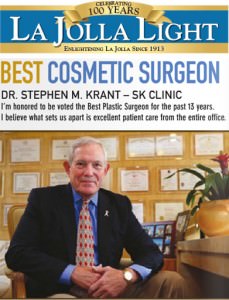 For the 13th year in a row, Dr. Stephen Krant has been voted the Best Cosmetic Surgeon by the La Jolla Light.
"I am honored to have been selected again as the Best Cosmetic Surgeon in the La Jolla Light Reader's Poll. Thank you to all who voted," said Dr. Krant. "I believe what sets us apart is excellent patient care from the entire office."
The Best of La Jolla 2013 La Jolla Light Readers Poll showcases the businesses, restaurants and people whose excellent efforts make La Jolla one of the best communities in San Diego.
For more details about the award, visit: http://www.lajollalight.com/bestof2013/